making it personal
Taudrey is a handcrafted and personalized e-commerce-based
company focused on making meaningful accessories while fostering a
positive and encouraging environment for females.
Always great with her hands and in love with all things feminine and sweet, Tiffany Dominguez started taudrey from her bedroom in 2009. Inspired by Audrey Hepburn, she fused her first name with Hepburn's to launch a brand in celebration of the icon's elegant mischief. Tiffany established a handcrafted and hand-personalized method her team takes great pride in today. Every piece is designed, crafted, personalized, and presented by the all-girl team (the #taudsquad) from their Miami showroom lovingly called "The Jewelry Box."
Offering no-fuss, dainty and versatile
jewelry that can be personalized, taudrey encourages confidence and the celebration of life. Customers can tweak styles and customizations,
freeing them of fashion barriers and size limitations. And through
various options for meaningful personalization, pieces allow for the
revel of personal growth and accomplishments, relationships and
significant life moments. University coordinates have been stamped to
celebrate a degree, a wedding date to mark nuptials, the word "survivor"
next to a glove symbol to honor a cancer triumph, the title "aunt" to
share pregnancy news, birth details to commemorate a new life, initials
to memorialize a lost loved one, and more. Women are freed to be
empowered by sharing stories through sleek jewelry.
In a world of machine-made abundance, restrictive price points and lengthy turnaround times for custom pieces, taudrey offers high-quality, handcrafted and meaningfully personalized accessories that are presented at affordable price points and delivered swiftly.
Beyond jewelry, taudrey has created a female-empowerment culture. The growing #taudreygirl culture cultivates confidence, joy, self-love, personal progress, and honesty.

It's one that promotes a strong sisterhood and gives women a fun
community to find others who believe in themselves and the power of connections. Never identified by age, body type or even style
preference, a #taudreygirl is strong, smart, filled with love, enjoys a
good laugh, and understands the influence of meaningful relationships
and accessories.
tiffany
Tiffany Dominguez (known on the streets as "Tiff" and in The Jewelry Box as "the taudboss") started taudrey in 2009, after accumulating experience in the realms of business marketing, public relations and fashion styling. Today, the immaculately accessorized owner spearheads all designs and manufacturing and is personally involved with every single piece that bears the taudrey name.

A Miami Beach resident, Tiffany resides with her high-school-sweetheart-turned-husband Javier, darling baby girl Siena, and their French bulldog Zoe. When she's not designing and developing your favorite pieces, Tiffany enjoys all things DIY (duh!), spending time with her loves and all activities that involve the ocean and champagne. She's got a contagious giggle and is a sucker for pretty much anything sparkly and/or gold, tassel banners, disco music, macaroons, truffle French fries, prosciutto pizza, and "Dancing with the Stars."
Favorite taudrey piece: Her first design—the classic Autograph Plate
Favorite drink: Sofia sparkling wine (Francis Coppola Winery)
grace
Grace Monteagudo serves as head of collections and additionally works as a crafter. With a kind smile and enviable hair waves, she formerly worked in pediatrics and was thrilled to find a fresh career through which her crafty skill set could thrive. And wow does this DIY Queen have a crafty and décor-loving side! Let's just say homemade Christmas ornaments is nothing out of the ordinary in the Monteagudo home.

Wife to Asterio and momma to baby-boy Jude, as well as a pup named Lucy and cat named Linus, Grace loves to travel to new places and going for runs. A South Floridian to her core, her happy place is on the beach or mid ocean on a boat, but the Disney fan is always willing to trade sandy toes for Minnie Mouse ears. She legit has rose-gold ears to match her taudrey pretties.

Favorite taudrey piece: Five Golden Rings Necklace
Favorite flower: White hydrangeas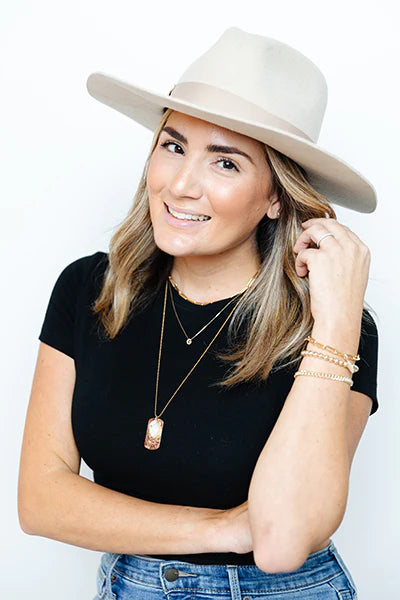 waleska
Originally from Isabela, Puerto Rico, Waleska Hernandez joined the taudsquad in March of 2015. At The Jewelry Box, "Wale" serves as manufacturing assistant and head of shipping. She's also affectionately considered "the taudmom," often bringing the squad homemade goodies and offering up non-stop affection and encouragement. The actual mother of twin boys and a girl, Waleska has a soft spot for Disney movies and will never turn down a plantain. And she also has arguably the most famous mango tree in Miami—the yummy yields of which she often shares with lucky customers. The warmhearted Boricua does have one vice—coffee! But that's pretty much a prerequisite at The Jewelry Box.
Favorite taudrey piece: The Sabby Style Bracelet Set
Favorite color: Purple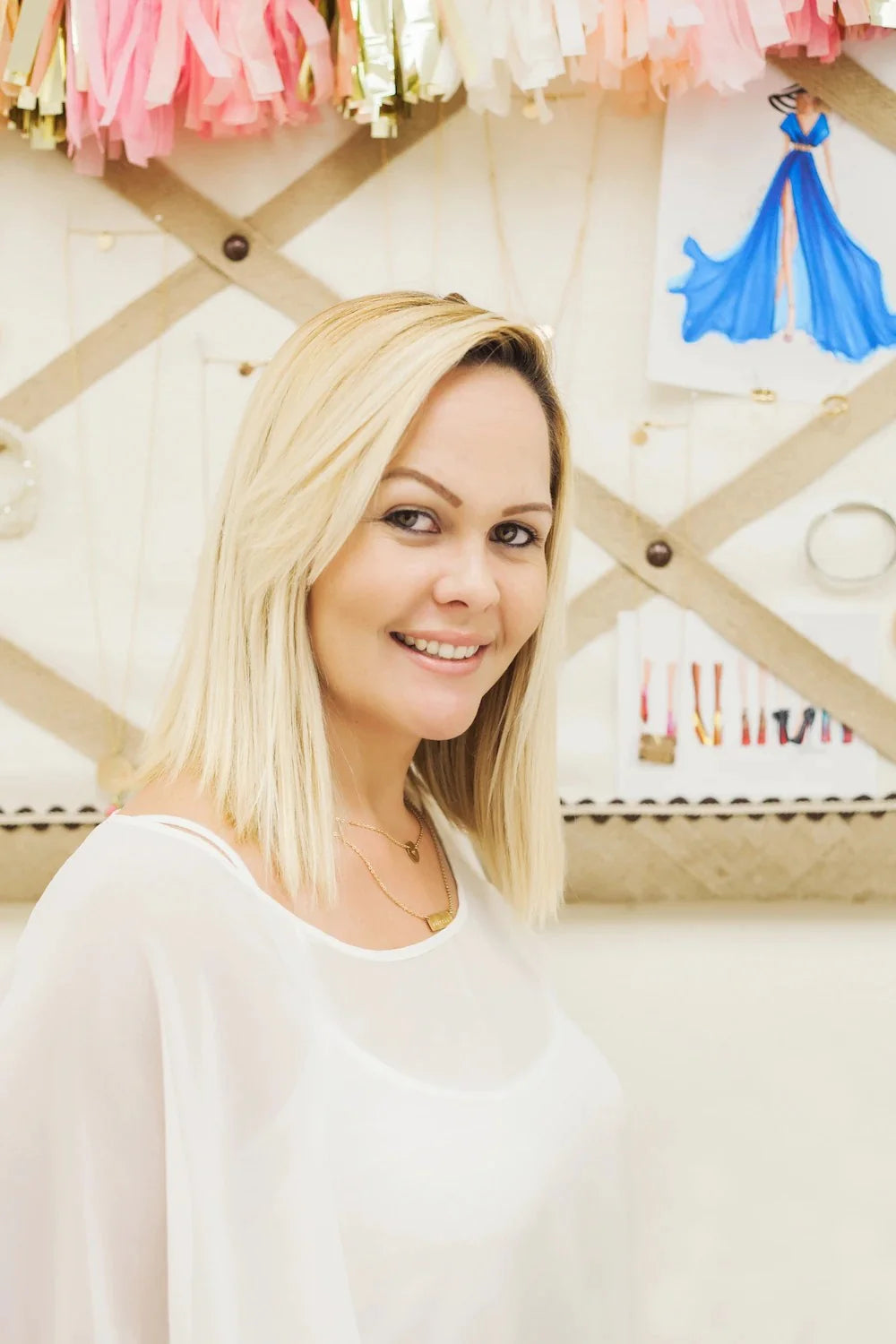 jen
Jen Mercado keeps The Jewelry Box in sweet shape as showroom manager, and additionally contributes as a jewelry crafter. With a bright energy and signature wavy locks, the total people person loves working with her hands and takes pride in her keen eye for creative aesthetics. Married to her teenage-sweetheart Jose, and dog mom to a darling lab named Sally, Jen lives for quality time (with great food and drinks!) surrounded by family and close friends.

On her days off, you can usually find her with her toes in the sand, and likely donning an enviable bathing suit and shades, and dope beach bag. And let's not forget about her curated playlists! The dedicated sunset chaser is sweetly proud of her strong Dominican heritage and feels most comfortable on a beach and flowing on an island pace.

Favorite taudrey piece: Gold Medal Necklace
Favorite mythical creature: Radiohead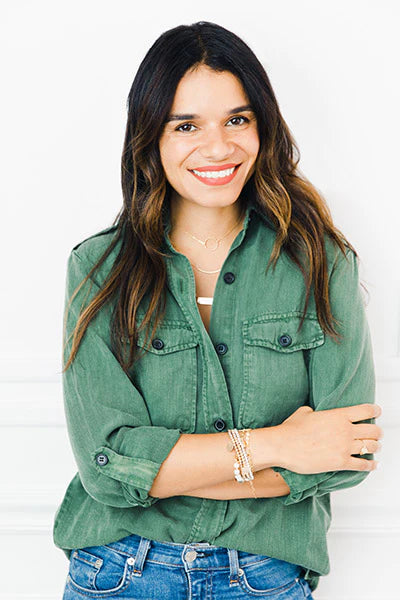 mallory & yuki
Mallory and Yuki are the dynamic duo behind all things taudrey marketing and design! When they aren't working alongside the #taudsquad they run The Kin Creative, a digital marketing agency focused on female entrepreneurs and mother-owned businesses.
Mallory is a career marketer, mama to Rowan, and two rescue dogs Bo and Finn! She enjoys traveling, spending time at the beach, and lives for a good spicy margarita.
Yuki is a brand and web designer, and mama to Lucca and Akemi. Also dog mama to two rescue pups, Toby & Bella. She loves gardening at home and traveling to the mountains anytime she gets a chance to!
Mallory's favorite taudrey piece: Happiness Thin Necklace
Yuki's favorite taudrey piece: A Mother's Love necklace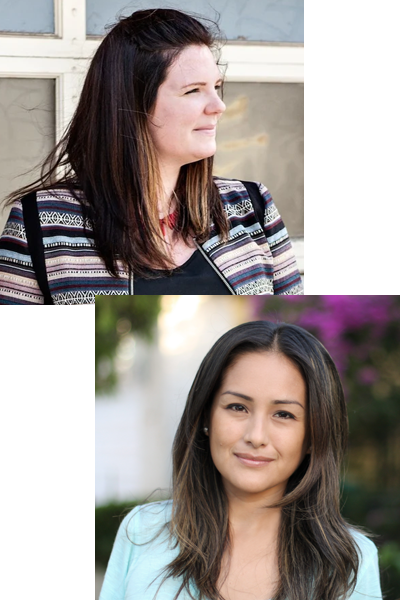 zoe
Originally from France, Zoe Dominguez joined the taudsquad when she was just a pup. Her formal responsibilities include greeting customers, managing security and modeling in photo shoots. However, since she is the taudboss' daughter, she often gets away with sleeping on the job and shaking her butt in front of customers. She's got a thing for lizards, car rides and the color pink.

Favorite taudrey piece: Mini Coin Symbol Necklace (with a dog paw!)

Favorite food: Marshmallows